Since my last book review I am sure I have read quite a few books. Unfortunately, I have not had the time to write about any of them. I meant to write. I really did. But it's so much more fun to read! (And play chess ;) ). I didn't even know if I was completing my 2015 reading challenge list. I've just been reading whatever is available and whatever happens to tickle my fancy at a particular point in time. Here are some of the books I have read since my last review (in the order I read them):
1. The Hypnotist's Love Story by Liane Moriarty 
It seems like such a long time ago since I read this book. It is quite an interesting story with, in my opinion, a unique plot. The hypnotist (or hypnotherapist) has a boyfriend who has a stalker.The stalker is one of the hypnotist's patients but, which one? It is an interesting an funny-ish story. It held my attention until the end because I wanted to see how it turned out. It was a good read overall.
My rating: 4 out of 5 stars 
2015 Reading Challenge: #34. A book with a love triangle.
************************************************
2. The Old Man and the Sea by Ernest Hemingway
Everybody who has ever heard of this book knows the old man caught the fish. It is the how that is the interesting part. It's been a few years now since I decided to read some classic books. This was one off that (mental) list. I actually started reading this book almost two years ago but it was borrowed and I had to return it before I could finish it. It's quite a short book but, truth be told, I didn't find it very fascinating. I can imagine though, that if it were required reading in my high school years for literature class, I would have enjoyed it more. I think so because then we would have been forced to analyse almost every sentence of the book. I liked the ending of the book though and the themes it explored. There are lessons to be learnt from it, especially as it relates to pursuing your dreams and being persistent.  All in all, I think it was worth the read.
My rating: 3 out of 5 stars
2015 Reading Challenge: #49. A book you started but never finished.
************************************************
3. The Rosie Effect by Graeme Simpson
I absolutely loved The Rosie Effect! I fell in love with Don and Rosie from The Rosie Project and when I saw there was a sequel, I just had to read it. Don is the best! I can't help thinking of Sheldon in the Big Bang Theory whenever he does any quirky thing. I think Don is waaaaay cooler than Sheldon though. This book had me smiling and even laughing out loud. There were some very emotional parts too. I loved it all. I learnt a few new words, too – pescetarian (sounds like Presbyterian, my friends say) is one of those words. Funny enough, I am a pescetarian and didn't even know that was the terminology. Who is a pescetarian, you ask? Go look it up. You will remember it better that way. Or better yet, just read The Rosie Effect. I recommend you read The Rosie Project first though.
My rating: 5 out of 5 (of course!)
2015 Reading Challenge: #8. A funny book
************************************************
4. Attachments by Rainbow Rowell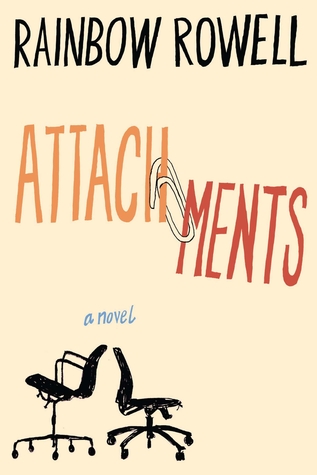 The first book I read by Rainbow Rowell was Landline. It wasn't bad but Attachments is better and more relatable. I enjoyed it a lot. It was funny and the main female characters reminded me of me and my friend and how we interact at work. It was pleasant to read and I liked the way it turned out in the end. I would recommend it to almost anybody. It is one of those books that had me thinking about it long after I finished reading it.
My rating: 4 out of 5 stars
2015 Reading Challenge: #11. A book with a one-word title
************************************************
5. Eleanor & Park by Rainbow Rowell
Rainbow Rowell had not been disappointing me and Eleanor & Park were on so many recommended lists that I just had to read it too. It did not disappoint one bit. The book, to me, was an easy-going read. It's one of those books you would like reading while lazing away. It was quite interesting and wasn't exactly what I had expected. I am a sucker for nice endings and this one had one. It's a good read. I'd recommend it for young adults especially and for those who liked Paper Towns or Everything I Never Told You.
My rating: 4 out of 5 stars
2015 Reading Challenge: #15. A popular author's first book
************************************************
6. The Paid Companion by Amanda Quick
It had been quite a while since I read a paperback. Surprisingly, I have gotten quite accustomed to reading from my tablet. Like my first time reading from my tablet, I had a bit of adjustment to make but I enjoyed it a lot. It felt way more intimate and I felt I could read in positions that would otherwise be uncomfortable while reading from my tablet. But enough about that. I am to tell you about the book.
I love historical romances and, as far as those go, this wasn't so bad. It had a bit of mystery and intrigue but I wouldn't say it was one of the best I have read. It was ok. I have read worse. I would actually recommend it to someone to read.
My rating: 3 out of 5 stars
************************************************
7. The Irish Bride by Alexis Harrington
This was another paperback. I started it as soon as I finished the previous book. It wasn't all that stimulating but it is still worth the read.
My rating: 2 1/2 out of 5 stars
************************************************
8. Yellow Crocus by Laila Ibrahim
I was so in love with The Invention of Wings by Sue Monk Kidd that I wanted to read something else with a similar theme. For that, I turned to Yellow Crocus expecting great things. The book had a good start and a good finish but I was a bit disappointed. Then again, maybe it wasn't fair to compare the two books. I enjoyed it though. There is something about books that explore slavery in America that just fascinates me. I would recommend it.
My rating: 3 out of 5 stars
2015 Reading Challenge: #36. A book with a colour in the title
************************************************
Other books I have read (to be reviewed in subsequent posts (hopefully)):
Euphoria by Lily King
When She Woke by Hillary Jordan
Ruby by Cynthia Bond
What have you been reading?